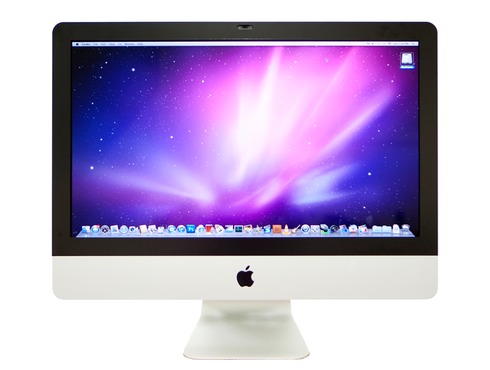 The Macframe Reduces iMac Screen Glare and Reflections
Most people who use an iMac find themselves working around unwanted reflections and glare from ambient lighting. The truth is, the problem isn't the glossy screen, it's the glass cover that Apple™ puts over the glossy screen. Because of it's location and high reflectance, this outer glass screen acts like a virtual mirror. By simply removing the glass cover and replacing it with a Macframe, reflections and glare are significantly reduced.
Custom Design and Operation
The Macframe is designed to keep your iMac looking great and working correctly. It's laser cut from thin steel and then powder coated black. The inside of the frame is designed to offer the same view as the original glass screen, while the outside is designed to match your iMac. We also provide a small oval window at the top for the Facetime camera and LED's.
Easy to Install and Remove
The Macframe requires no special modifications or tools. With the suction cups we provide, it only takes a few minutes to remove the original glass screen and install the Macframe. The same magnets that hold the original glass also hold the Macframe tightly in place. If you ever want to reinstall the original glass, simply remove the Macframe and insert the glass. It's that simple!
Available for both the 21.5" and 27" iMac
The Macframe will work on all iMacs with an edge to edge removable glass screen (Late 2009 up to Mid 2012*). Because of the design of the Macframe, it is not available for any earlier iMac versions or late 2012 and newer "Thin Screen" iMacs. 
Now available for the 27" Cinema and 27" Thunderbolt Display
As soon as we began shipping the Macframe, we began getting requests for a 27" Thunderbolt Display version. See the newest Macframe here.

The Ultimate iMac Accessory
Okay, maybe we're prejudiced, but after installing the Macframe on our own iMacs, we'd never go back. We think you'll feel the same way.
*Special Note -There technically isn't a "Mid 2012" iMac. Apple sold the "Late 2011" iMac right up until the "Late 2012" iMacs began shipping in November of 2012. However, many people consider the iMac they bought in January - October 2012 to be a 2012 iMac.